When you're outfitting an office environment with seating, you need office chairs to accommodate a variety of workers at your site. Depending on the range of body types in your workplace, this might require a mix of standard chairs and heavy-duty chairs. Deciding which options best suit you starts with understanding the weight limits of a standard chair. Do you already know how much weight a typical office chair holds? Are you familiar with the benefits of a heavyweight office chair? Are you comfortable knowing which one to pick for your location? To help you determine which office chairs are the best fit for your workplace, here's a look at the differences between standard and heavyweight chairs, and why that matters.
WEIGHT LIMITS OF A STANDARD OFFICE CHAIR
Generally, a standard chair is made to support up to 250 pounds. While this will likely accommodate many of your workers, you may need a heavyweight office chair for others. Designed to hold between 300 and 800 pounds, heavyweight chairs are built using much more durable components, allowing them to comfortably support increased weights and sizes.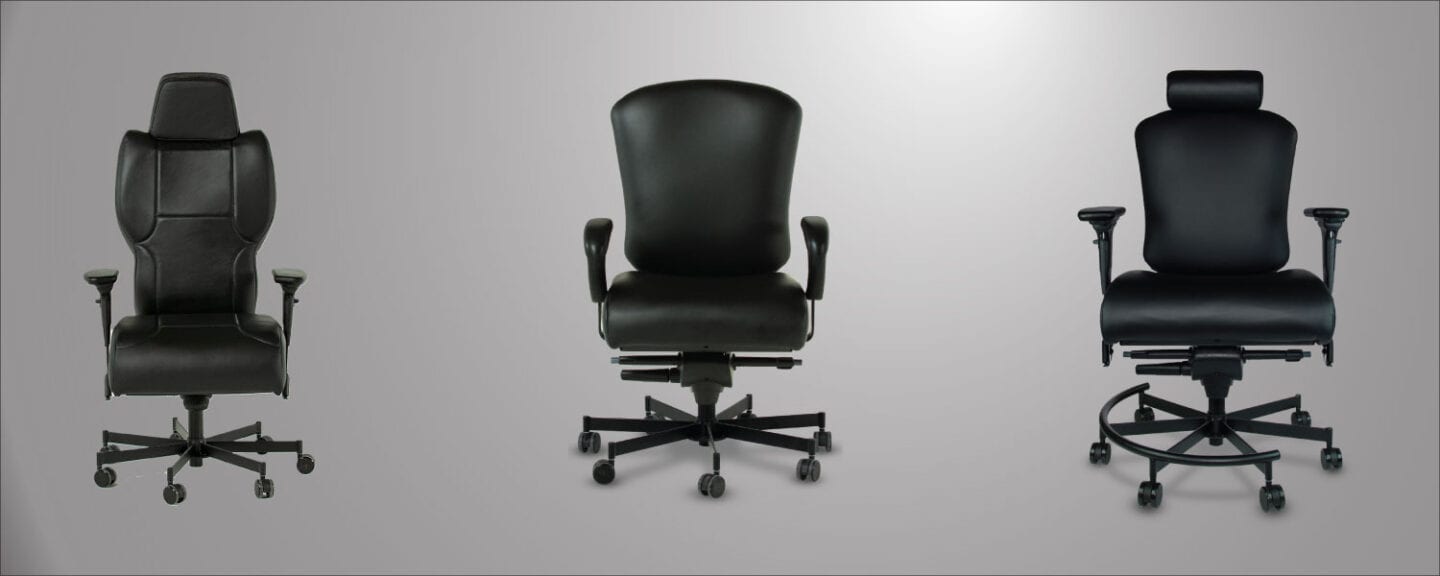 OTHER FACTORS THAT GO INTO SELECTING AN OFFICE CHAIR
While weight limit is one important consideration in deciding between standard and heavy-duty chairs, it's not the only consideration. Other factors include:
Chair height: How tall is the chair? If you're looking for an option that will provide back and neck support to tall workers, you may need a chair with a higher back than standard sizes.
Chair width: Even a chair that can hold a higher weight could be unusable if the width is too narrow. Is the chair also designed to be wider?
Adjustability: The best seating options have adjustability so they can be moved and repositioned to fit various workers. Look for a chair with adjustable armrests, seat depth, back height and lumbar support.
When you find a durable chair option that is sufficiently strong, high, wide and adjustable to accommodate various users, there are still other issues to think through in your decision, such as:
Comfort. How comfortable will the chair keep workers? Will they be sufficiently supported, or will they be regularly distracted by physical pain?
Health factors. Believe it or not, ergonomic seating can boost a person's circulation, aid digestion, reduce stress and immediately impact causes of musculoskeletal pain.
Productivity. The better the chair, the less a worker has to think about it and the freer he or she becomes to work. This is why proper seating is so important in the workplace — it helps enable productivity that boosts business.
As the leading provider of 24/7 chairs, Concept Seating is the place to go for long-lasting, heavy-duty chairs to fit any of your workers. We offer a bariatric chair with an 800-pound weight limit, for example. Even our standard models support up to 550 pounds, and they're all backed by a six-year warranty covering wear and tear. Our experts would be glad to chat about your needs and help find the best solution for you.

Contact us today to learn more!