Bariatric Office Chairs built for weight up to 800lbs.
There are many different body types among all of us, and comfort for one person may cause pain for another. People who are big and tall have unique physical requirements that are not always properly addressed by standard office chairs.
Concept Seating chairs are designed and engineered for a wide range of body types. All Concept Seating chairs have a weight limit of 550 lbs. and for larger employees, we have developed the 3156 Bariatric Chair for weights up to 800 lbs.
This big and tall executive office chair is unlike any other on the market and was designed from the ground up by the Concept Seating engineering team. There is no other similar chair on the market with this weight capacity.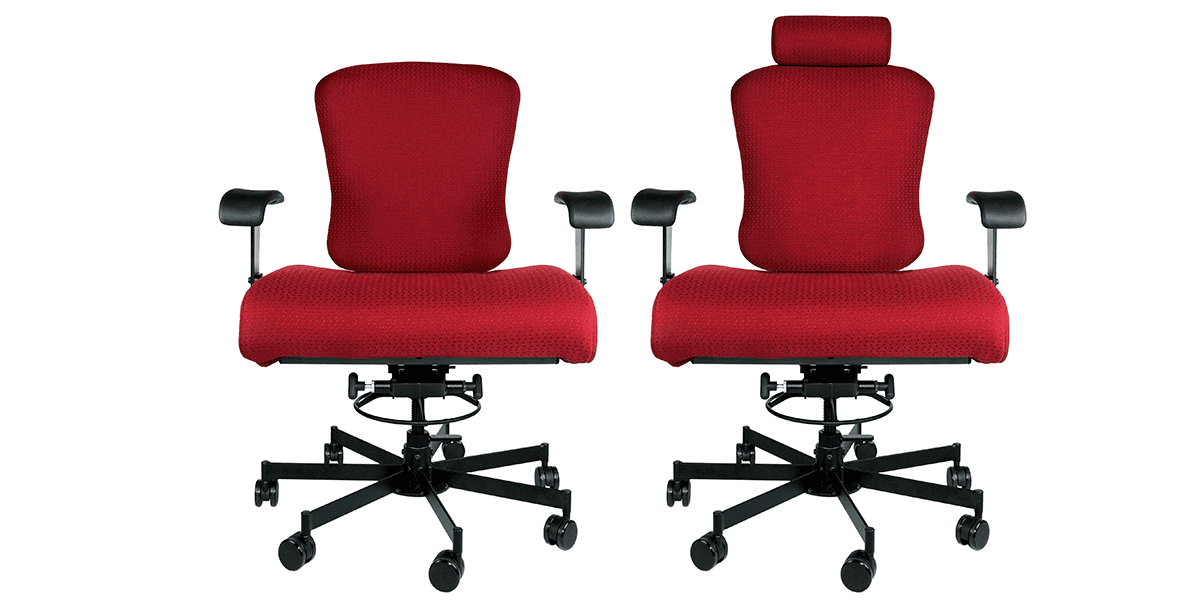 Why was the 3156 Bariatric Chair introduced to the market?
Standard office chairs may not provide adequate back support or be strong enough to fully accommodate someone of a larger-than-average body type. Tall people may experience poor circulation caused by office seating which forces their legs into unnatural positions. People with larger-than-average frames may be uncomfortable sitting in a chair with armrests designed for someone of average size. For bariatric chairs, other considerations are made.
There's more to solving the bariatric seating issue than simply making a larger chair. Bariatric seating must meet exacting standards set by the Business + Institutional Furniture Manufacturers Association and is approved by American National Standards Institute (also known as ANSI / BIFMA).
Using the ANSI/BIFMA guidelines, Concept Seating developed the 3156 Bariatric Chair with a weight limit of 800 lbs.
What makes the Concept Seating 3156 Bariatric Chair the best choice for a big and tall consumer?
Engineered to handle double the standard weight capacity of the ANSI/BIMA X.511 bariatric standard (800lb). This bariatric task chair is not just bigger and wider but engineered from the ground up to be the standard in bariatric seating. Features of this bariatric office chair include tilt adjustment, back angle adjustment, seat depth adjustment, safety casters, adjustable lumbar support, and adjustable arms, put together with grade 8 bolts and of course utilizing Concept Seating's acclaimed Ergo Air Suspension System. Whether you use it as a bariatric computer chair or for another use, you can customize it with the variety of options we offer.
Seven Leg Bariatric Base
Seven legs provide 20% more ease of movement and more stability over five-leg chairs. This is especially important for larger individuals that find moving in their bariatric task chair difficult. Steel construction with metal strength ring and tested to 10,000lb dynamic load, our base is unmatched in strength and stability. The Concept Seating 3156 Bariatric chair is able to achieve this strength and stability with one base, unlike the competition who uses two bases for stability.
Bariatric Tilt
Engineered and developed by Concept Seating, this new bariatric tilt mechanism is distinctive and unequaled in its rugged simplicity. This bariatric chair can tilt to three seat pan angle positions and has separate 2 back angle adjustments.
Bariatric Seat Depth Adjustment
Set the depth of the chair to fit your size with four seat depth adjustments.
Height Adjustment
Control the height of the chair by turning the large hand wheel to adjust the height of the screw jack locking it in place with the jam nut with a handle. The height adjustment range on the bariatric chair is 3".
Bariatric Armrest
Made from 5/16" steel, these heavy-duty arms are adjustable in height and width.
All Concept Seating Chairs are designed with:
Ergo Air Suspension System™
Our Ergo Air Suspension (EAS2)™ dissipates the occupant's weight over the entire chair surface improving blood flow and increasing oxygen levels in tissues. Improved blood flow and increased oxygen levels improve concentration and productivity and decrease fatigue. EAS2 conforms to the shape of each occupant, as it almost instantly bounces back to its original shape when the weight is lifted. Having no springs eliminates the chances of squeaky or flattened springs.
Built For More Body Types – Sized to 4th-percentile female (approx. 5' 0") up to the 96th-percentile male (approx. 6' 5").
Warranty – We Give a Sit Warranty – Best in the industry! We offer 100% coverage for 6 years that includes all part failures. 10-year coverage on all failures in materials and/or workmanship. All parts ship free for the first 2 years. Most repairs can be completed in the field which eliminates downtime.
Big and tall people have unique requirements for their office furniture, and Concept Seating is one of the leading manufacturers committed to developing seating that will help them stay healthy, alert, and comfortable while on the job.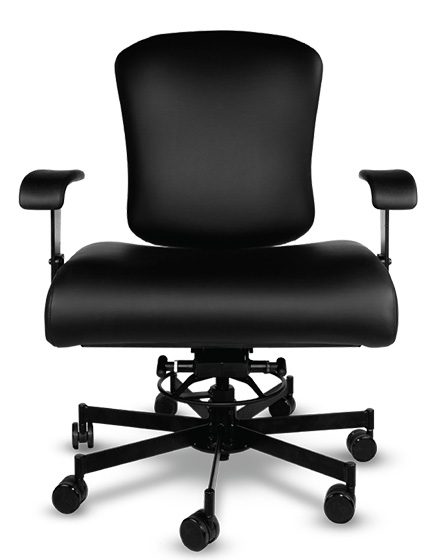 For more information on the 3156 Bariatric office chair, please contact our sales team.