Shift work is hard, especially when it's for an organization that must be staffed 24 hours a day, 7 days a week and 365 days a year. 911 operators work swing shifts, nights, doubles, weekends, holidays and have 8-hour, 10-hour or 12-hour shifts.
And that's just the hours.
The work itself requires meeting people on the worst day of their lives. Managing the stress, dealing with the trauma, and providing a lifeline to those who desperately need it are all in a day's work.
When a profession demands that the majority of your time is spent sitting, and that sitting can punish your body, it is important to be choosy about what you are sitting on.
Risks of prolonged seating
Intuitively, we know that we should move around. Our bodies get stiff and sore after being sedentary too long. But what are the potential implications of staying seated day in and day out?
James A. Levine in his paper, "Sick of Sitting," which was published in the National Library of Medicine, identifies sitting sickness as a grouping of over 30 chronic diseases and conditions associated with a sedentary lifestyle. A few of these include:
Obesity
Hypertension
Osteoporosis
Breast cancer
Prostate cancer,
Cardiovascular disease,
Depression
Back pain
Musculoskeletal pain
Repetitive strain injury (RSI) or cumulative trauma disorder are also frequent issues with prolonged sitting. These are umbrella terms to describe conditions resulting from an overuse of specific muscles. A short list of these conditions includes:
Carpal tunnel syndrome
Tendonitis
Bursitis
Tenosynovitis
DeQuervain's syndrome
Tendinosis
Thoracic outlet syndrome
Cervical radiculopathy
Epicondylitis
Cubital tunnel syndrome
Tingling, numbness or coldness in the hands and wrists
Partial loss of sensation
Loss of grip strength, lack of endurance
"The most prominent cause of this phenomenon is that the concerned muscles are kept tense for extensive periods of time, due to poor posture and repetitive movements. Research shows that 60% of IT professionals, who spend more than eight hours a day on the computer, are likely to suffer from the symptoms of RSI at some point. Once contracted, such symptoms of RSI are extremely difficult to cure and can occur even in the young and physically fit individuals. In fact, people are often forced to quit their computer-dependent careers due to this disorder"

London Pain Clinic
As dispatchers sit, often with tensed muscles, for long shifts in stressful situations, their risk for these conditions increases.
The obvious solution is to change positions, use a standing desk, get up, relax your muscles, take a short walk or break. Unfortunately, that isn't always an option and even when those things are diligently done, the job still requires a large portion of unavoidable of sitting.
This is where an ergonomic chair that is specifically designed for multi-shift, 24/7 use comes into play.
24/7 ergonomic chairs for a 24/7 job
Out of 168 hours in a week, a typical office chair is likely to be sat in only 40 hours or less (24% of the time). Not so in a 911 dispatch center. Those chairs will be occupied all day, every day.
Chairs are often shared among multiple people with multiple body types. Based on the Dreyfus Human Factor Study the 4th percentile female is 5' 2" and the 96th percentile male is 6′ 6″. Additionally, 41.9% of the US population is obese and 9.2% of the US population is severely obese according to the US Department of Health and Human Services.
To ergonomically accommodate such a dramatic range of heights and weights, chairs need to offer a variety of adjustment features. Consider the location and depth of the lumbar cushion to support the lower back. The optimal spot and amount of lumbar cushion will change based on body type.
Knees should be bent at a 90-degree angle to encourage good posture, but chair height adjustments aren't always enough for the shortest of users. The ability to add a half ring base to the chair now gives it the flexibility to comfortably seat a greater range of people.
To accommodate a variety of console, monitor and equipment configurations select a chair that has multiple tilt positions and an articulating headrest. This ensures the ability to work comfortably with the proper posture at the keyboard and viewing angle of the monitors. To pull your chair close to the console, use armrests that swing forward or backward. Then bring the armrest upright when working a little further away from the desk. Again, this allows you to maintain optimal posture regardless of the current task.
A split backrest that is not attached to the seat and allows it to be independently raised or lowered helps users to further fine-tune the ergonomics of their chair.
To keep your knees and legs in an ergonomically correct position and still provide a comfortable recline, use a chair that has a 2:1 recline ratio. This means that for every two degrees of back recline, the seat reclines one degree to maintain ergonomic comfort.
Durability
A laundry list of adjustable features is great, but there is a practical side to consider as well. The chair will be abused. The chair must last.
A chair with at least a 550-pound weight rating may seem excessive but it provides a comfortable margin to support dispatchers of all sizes. Bariatric chairs with a weight rating of 800 pounds are also on the market and should be selected to maintain the best ergonomic support for upper weight ranges.
When was the last time you looked at the base of your office chair? Likely seldom to never. However, it is the foundation for your chair. A seven-leg base provides 20% improved ease of mobility compared to standard five-leg bases. It also helps prevent tipping and allows for those higher weight ratings.
Keeping a focus on the lower half of the chair, be sure to use safety casters. Safety casters have a two-point stem, shock absorber and special bore construction that prolongs the life of the caster as well as the chair. The closed construction reduces the amount of dirt and hair getting into the caster also prolonging its life. As the name implies, they are also a safety feature. The chair won't move unless it is sat in. Once you sit in it, the brake is released and allows the chair to roll freely. This is important for those who may need to put weight on the arms to lower themselves into the seat, preventing unintended chair movement and reducing the risk of injury.
To ensure cylinder durability, get a chair whose cylinders have been tested for 24/7 use and have a minimum of 400 newtons (PSI) preferably 450-500 newtons. This will also prevent your chair from sinking when you sit on it, especially at higher weight ranges.
Most standard office chairs have a solid wood or metal seat bottom with foam on top or an open mesh design. Foam breaks down over time, leaving the user sitting directly on a hard surface. Mesh seat bottoms can be nice, but they don't have that soft, comfortable feeling you get with foam and fabric.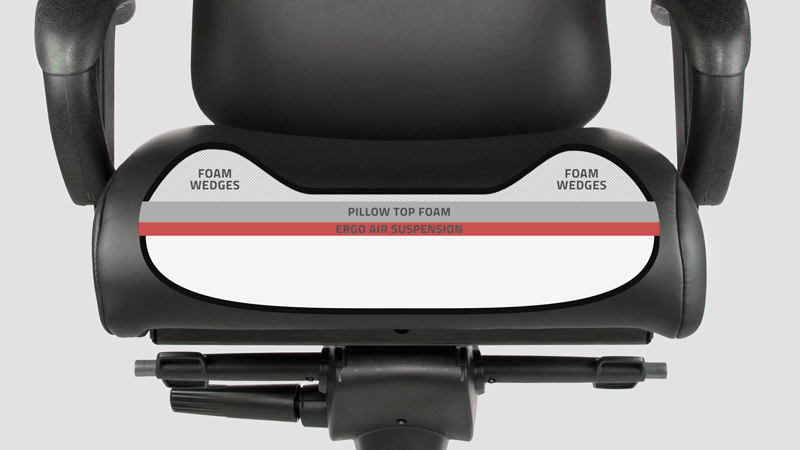 A 24/7 seat featuring a weight dissipating suspension system keeps the blood and oxygen flowing through your body, especially through the lower extremities, improving blood flow and increasing oxygen levels to tissues.
This has numerous benefits over traditional seating. Because the user's comfort lasts all day; they don't have to constantly squirm or reposition themselves. With fewer pressure points circulation is improved. This means that the chair is going to be as ergonomic and comfortable after a few years as it was on day one. More pressure points for larger people smaller people have more acute pressure points.
Prove it
To ensure that your dispatch chair delivers on its promises, make sure it is tested to industry standards.
The furniture industry uses the ANSI/BIFMA X5.1 General-Purpose Office Chairs for weight ranges up to 253 pounds and the ANSI/BIFMA X5.11 General-Purpose Large Occupant Office Chairs standards for weights up to 400 pounds. They are comprised of a number of different durability and load tests. These tests evaluate every aspect of the chair including the backrest durability, leg strength, stability, arm strength, tilt mechanism and more. It is important to note that this is the minimum standard for all office chairs—it is not a 24/7 intensive use standard.
In 2010, the FED-STD-834A standard was developed to account for the 24/7 environment. It uses a similar series of tests, but to comply with this standard much higher performance values are used.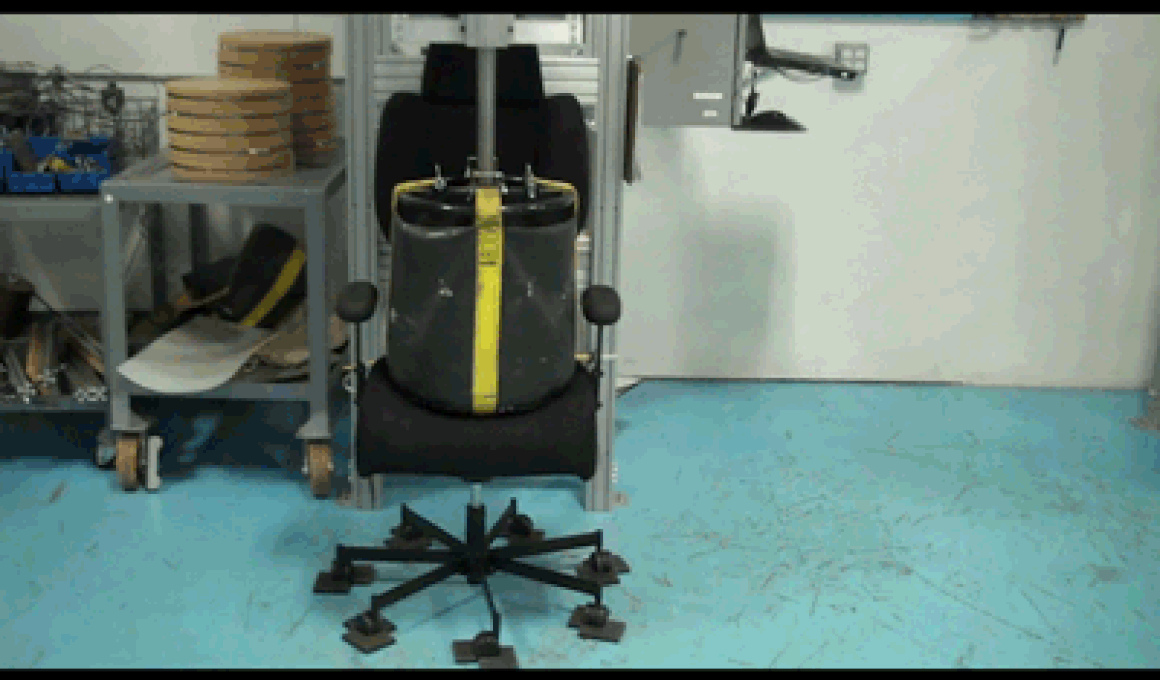 You may also find chairs tested to the pre-2010 standard, the FNEW-83-269E. This standard required even more stringent performance values than the FED-STD-834A, which is which it was superseded by. Carl Eckelman and Yusuf Erdil describe the test method for the FNEW-83-269E as:
A chair is subjected to one or more loads that are applied to the seat, back, arms, or legs at selected positions at a rate of twenty cycles per minute. The test is continued at this load level until 25,000 cycles have been completed. Loads are then increased by a given load increment and the test continued for another 25,000 cycles. This process is repeated until some part of the chair suffers disabling damage or a desired level of performance has been achieved. The performance rating of the chair is taken as the highest load level it was able to successfully complete 25,000 cycles.
Those in the UK use testing standard FIRA 055-2009.
To further ensure that your 24/7 intensive use chair continues to serve dispatchers well into the future, maintaining ergonomic comfort, check your warranty. The advertised warranty usually doesn't apply or has severe restrictions in a 24/7, multi-shift environment, so be sure to read the fine print.
Comfort for those who help
As Robert De Niro famously said, "If it's the right chair, it doesn't take too long to get comfortable in it." Likewise, a 911 dispatcher should not have to sacrifice physical comfort in the line of duty. In addition to frequent breaks, and standing desks, dispatchers need an ergonomic chair that is specifically designed for 24/7 intensive use. Despite the challenges in accommodating multiple body types, armed with a little knowledge, this is a very achievable goal.
Make proper, ergonomic seating a priority and your body will thank you.