As anyone who spends regular hours working in an office environment would tell you, your desk posture plays a big role in productivity. Simply put, the more supported your body is, the better you can stay focused on the tasks at hand. That's why investing in an office chair with a headrest can be such a good idea. How exactly does a chair headrest provide benefits at the office? Why is it so useful? To help answer these questions, here's a look at some key benefits that come from using a chair with a headrest:

Key Benefits of a Headrest
Pain relief. If you've resigned yourself to the fact that working at a desk means living with desk pain, think again: With a good ergonomic chair, you can revolutionize desk-side comfort. Choose a chair with an adjustable backrest and headrest, and you can often save yourself the annoying neck, shoulder and other body aches common in office jobs. That's because an ergonomic chair with headrest adjustability can be customized to your body, providing just the support you need where you need it.
Better posture. One of the big reasons ergonomic chairs can provide pain relief is because they improve posture. Instead of leaving you to hunch forward, scrunch your shoulders and put pressure on parts of your back, ergonomic seating encourages correct posture, which provides proper comfort.
Rest while reclining. Say you're taking a long conference call or reading some lengthy materials — wouldn't it be nice to rest your head as you do? With a tall office chair, you can tilt your head back and receive support that takes some of the pressure off your head and neck. Short breaks like these can help your body rejuvenate and feel energized to continue working throughout the day.
Adjustability. The best headrests are adjustable, able to adapt to the tasks at hand. Look at our 3150 Two-Step Stool, for example, where the headrest has six height positions catering to you.
Support for employees with special needs. In some cases, having a chair with a headrest is more than ideal; it's necessary. For workers who have chronic musculoskeletal dysfunction or injury, being able to work while reclining is necessary in order to work. An ergonomic chair with a headrest supports these individuals in the workplace.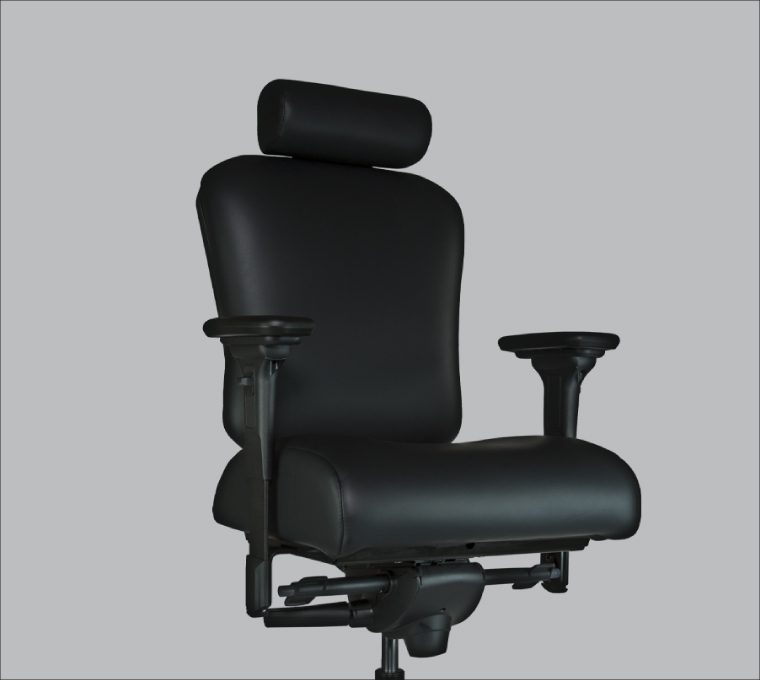 Whether you manage an office environment or work at a desk job, if you're looking for a way to improve worker comfort and, by extension, workplace productivity, consider a high office chair. Through the added stability and support of a chair with a neck rest, you gain benefits like pain relief, improved posture, a way to rest, and accommodation for employees with special needs. A leading provider of ergonomic seating options in a variety of industries, Concept Seating is your resource for finding exceptional ergonomic chairs for your office environment. Learn more about ergonomic seating options by exploring our online catalog — or contact us any time to discuss finding the right options for you!