In any intense work environment, a 24-hour chair provides invaluable support. Workers who have 24-hour office chairs enjoy round-the-clock, durable seating that stays comfortable in demanding environments and adapts to changing personnel. Whether you're seeking seating for ambulance dispatchers or utility process control employees, the best office chair for 24-hour use can make a huge difference in your staff's daily focus, mental sharpness, and physical comfort.
Does your workplace have a call center, control room, or dispatch center? Do you have employees who handle long shifts where they need to stay alert? If so, quality chairs could be a huge asset to your business or facility.
HOW 24/7 ERGONOMIC CHAIRS HELP
Whenever your workers spend long hours on the job, a 24-hour chair becomes vital. All those sedentary hours can wreak havoc on the body, but the appeal of ergonomic 24/7 seating is that it combats potential damage before it occurs. Here are some ergonomic chair advantages that demonstrate the value of intensive-use chairs:
Reduction in employee physical fatigue
Enhanced mental sharpness among workers
Less distraction on the job
Chairs that meet higher testing standards for increased strength and reliability
A business investment that doesn't need to be routinely replaced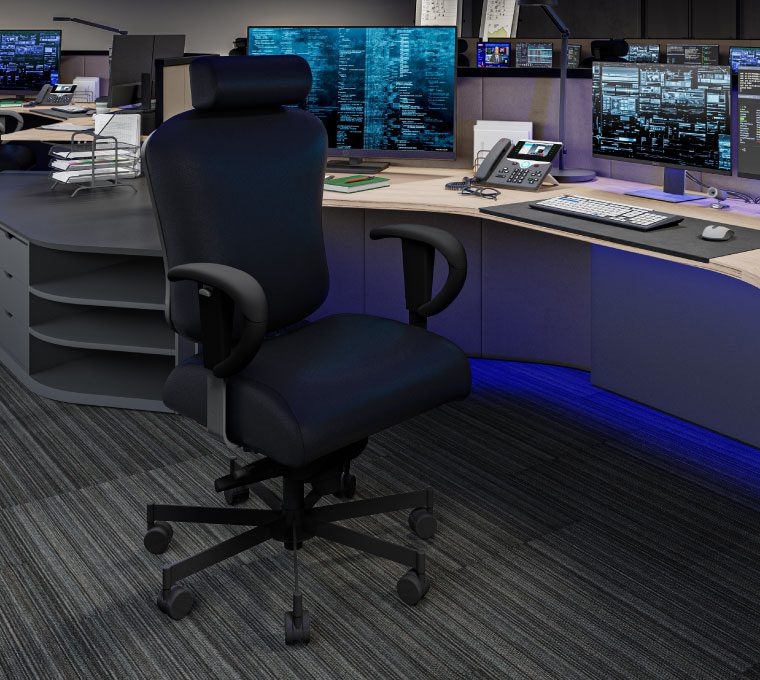 WHAT ARE HEAVY-DUTY 24-HOUR OFFICE CHAIRS?
The 24-hour office chair is a resilient, thoroughly tested, long-lasting seating solution that can withstand many hours of use — even at high weights or with changing personnel. It undergoes rigorous testing, including cyclic stepped loads, in order to receive classification as an intensive-use chair. At Concept Seating, we offer a variety of different options, including operator, task, bariatric and high-back chairs. Each is designed to support workers in high-stress, 24-hour job environments. Our designs also incorporate adjustability, from lumbar and armrests to seat depth and chair height.
WHY CHOOSE CONCEPT SEATING
When you're looking for the best office chair for 24-hour use, there's no better choice than Concept Seating. The chairs we manufacture are tested beyond the highest standards in the industry — and we have FNEW 83-269E (U.S.) and FIRA 055-2009 (U.K.) certifications to prove it. We also are proud to offer an innovative Ergo Air Suspension System and ergonomic adjustability to make our chairs as supportive and comfortable as possible. Our designs come in 10 different color and fabric options to make it easier to choose a model that's right for your location. They are specially engineered to provide the support that lasts all day — and all night.
Information about specific Concept Seating chair designs is available online in our catalog. You also can get in touch with our team anytime to learn more.