With work environments where the office is in use all day and all night, you need the kind of heavy-duty office equipment that can stand up to that kind of constant wear and tear. With a 24/7 office chair, you have exactly that — a seating option that's specially designed to withstand ongoing weight and pressure. The only problem is that finding and buying a 24/7 chair isn't always a simple matter. There are all kinds of office chairs for 24/7 use that are on the market today, and unfortunately, they aren't all created equal. Just because a product claims to be ergonomic doesn't mean it will be the right fit for your workers' bodies — and that's why you need to know a few basics before buying an office chair.
To help you navigate the world of office equipment and 24/7 chairs, here's a basic buying guide for office chairs. Use this chair buying guide to help you know what to look for, how to find it and why it all matters.
A Few Key Features to Look for in 24/7 Office Chairs
There are a variety of office chairs on the market today: high-back, mid-back, low-back, leather, vinyl, etc. When you're navigating the options, it's helpful to have some kind of office chair buying guide in mind. Generally speaking, 24/7 office chairs stand out in a few key ways, and these are some features to look for:
Heavy-duty construction: The best 24/7 chairs are designed with sturdy steel frames that are virtually indestructible and able to hold up to ongoing use.
High-weight rating: Because you want your 24/7 chair to be able to accommodate a wide range of users, look for one that's strong enough to hold up to 500 pounds or more.
Warrantied: Warranties help you know that a manufacturer is confident in the chair's capabilities, so look for chairs that come with some kind of warranty to back their value.
On top of these features, perhaps the most important quality of 24/7 office chairs is customizability. In order to serve multiple users over many years, ergonomic chairs have to be adjustable.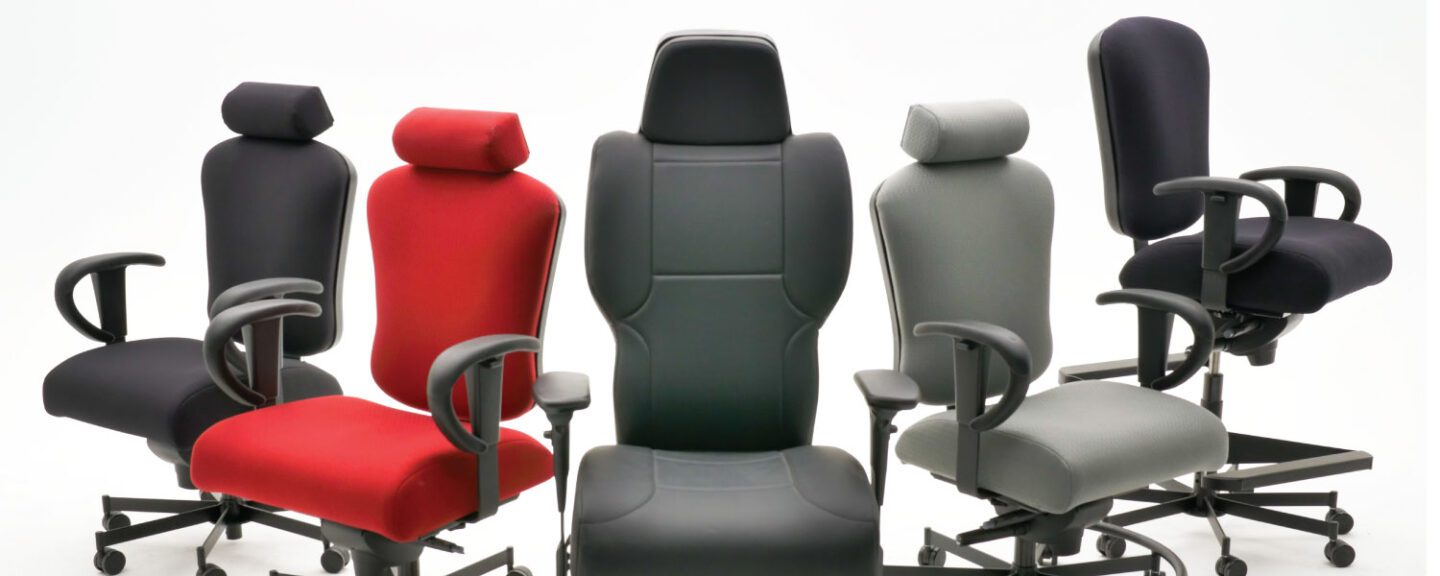 Adjustment Controls
Because no two people are exactly alike, the same chair won't fit your whole staff. When one person's shift ends and another begins, you need the kind of chairs that can be quickly and easily transformed to fit each person's needs. With that in mind, here are a few key adjustable controls to identify in your chair:
Seat height and depth: The same chair in which one person is comfortably seated, with feet on the ground, is the chair that sends another person's feet up in the air. This is why adjustable seat height is so important. Each user needs to be able to tailor the height of the chair to his or her height.
Arm height and width: To maintain proper posture while seated, office workers should have their arms parallel to the ground. Their arms should be able to rest comfortably on armrests. Again, this means being able to adjust the height and width of the armrests to accommodate each user.
Back height: In terms of supporting the spine, back height is vital. A chair with an adjustable back height makes it possible to slide the back up and down in order to put the lumbar curve right on the person's lower back.
Lumbar support: With an adjustable lumbar support column, any user can move this feature up and down for the right lower-back support.
Tilting feature: To allow for different levels of reclining in the chair that still accommodates proper posture, a 24/7 chair should have an adjustable tilting feature.
Bottom line? Your 24/7 chairs should be adaptable to different users and accommodate different body types. If this isn't prioritized, you risk creating improper posture and pain for one user, even while accommodating another.
Interested in learning more about 24/7 chairs and how to use them in your workplace? Contact Concept Seating to talk about the options!